Visitors to the Gateway Arch can look up over 43,000 tons of concrete and steel that form a graceful, iconic arc that is 63 stories high. Standing as an allegory for the westward expansion of the United States and honoring the pioneers who made it possible, this magnificent structure was designed by Finnish-America architect Eero Saarinen.
The monument, which was completed in 1965, has taken millions of visitors on the trip to the top to enjoy stunning views stretching up to 30 miles to the east and west.
Start your tour of the Gateway Arch by visiting our new, interactive pre-boarding exhibits that feature a variety of different multimedia including 60s era animation. Travel along the route and learn interesting facts about America's tallest monument that is 630 feet tall and visit displays focusing on famous engineering feats, locally sourced fast food, and famous St. Louis landmarks.
Each tram tour has an anticipated duration of 45-60 minutes. For the best experience, purchase your Tram Ride to the Top tickets before you visit. Start planning your Gateway Arch adventure now and buy your tickets in advance to ensure you have the most time on-site.
The Observation deck is not wheelchair accessible for guests with mobility impairments, and there is no strollers allowed on the deck.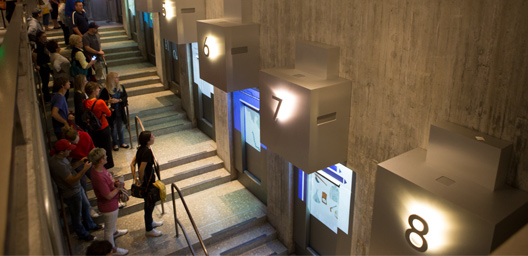 To reach the top and return, you must be able to manage at least 96 steps that are divided into six flights. You may need to stand for 30-60 minutes as well without any seating or restrooms located at the top of the Arch.
Visit the Arch Museum, which has been open since 1933 and features exhibits from antiquity to the present. Explore the story of the Native Americans, explorers, pioneers, and rebels who made America possible. From the first native peoples of North America, to the explorers and pioneers that discovered this land for their own purposes, to the rebellious Americans that fought for independence in a revolution.
Featuring a history that spans over 201 years, this innovative and interactive museum celebrates the pioneering spirit of America's fearless explorers and offers a fun and educational experience for the whole family. The museum is split into six different exhibit areas, each of which tells a different story: Transportation, Exploration, Native America, American Westward Expansion, Home Front and World War I.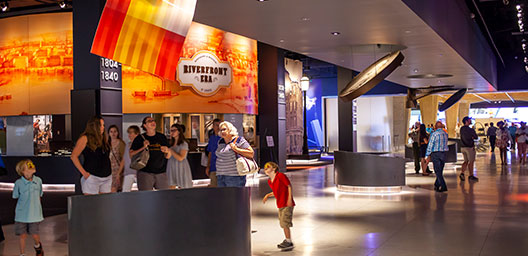 The galleries include topics from 1764 to 1965, including Jefferson's Vision, The Riverfront Era, New Frontiers, and Building the Gateway Arch.
The whole family will enjoy visiting the St. Louis Gateway Arch. Be sure to include it in your visit to St. Louis.